Gutter Cleaning & Downspout Washing In Reading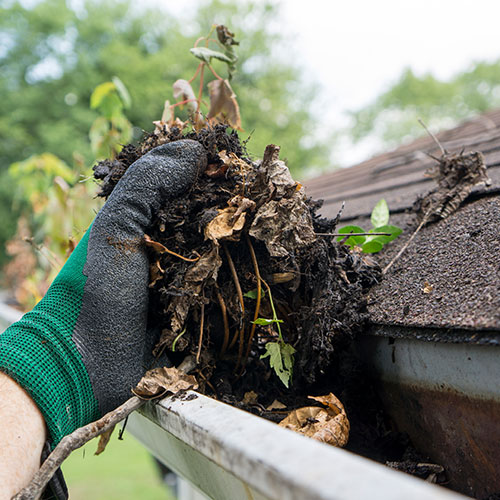 At Griffin's Service All Exterior, LLC, our exterior maintenance professionals offer expert gutter cleaning, downspout washing, and gutter brightening services to care for your Reading home's gutter system inside and out. Our gutter cleaning gurus have the expertise, experience, and the right tools to get the job done with five-star results.
If your exterior maintenance to-do list has become a burden, our skilled specialists are here to help you care for your home from the roof down. Use our online form to request gutter cleaning and other exterior property maintenance services in the Reading area, or give us a call at 610-334-2744 for a free estimate.
Downspout Washing
Your downspouts perform an important task in your gutter system, properly routing water away from your roof's surface and directing it away from your foundation and landscaping plants. Our downspout washing experts will remove leaves, twigs, and other debris from the interior of your downspouts to ensure the free flow of water and protect your property.
Gutter Cleaning
Our qualified gutter cleaning professionals have a proven process to care for your gutters and keep them in top condition. We use hands-on cleaning techniques and precision tools to safely and effectively clean your gutters for optimum performance, eliminating materials that can clog your gutter system and lead to breaches and pooling.
Gutter Brightening
While gutter cleaning keeps your gutter system working properly on the inside, gutter brightening makes your gutters look great on the outside. Our gutter gurus will remove algae, dirt, and grime to make your gutters shine!
Professional Exterior Maintenance Services To Enhance Your Reading Curb Appeal
With our eagle-eye attention to detail and our heart-of-a-lion commitment to excellence, it's easy to see why our customers in the Reading area give the pros at Griffin's Service All Exterior, LLC five-star ratings. We offer a variety of quality exterior property maintenance services to care for your Reading property from the roof down, including:
Gutter cleaning & downspout washing
Tree & bush removal
Mortar repair
Commercial pressure washing
Residential pressure washing
Exterior painting
And more!
For the pros at Griffin's Service All Exterior, LLC, exterior maintenance is our passion and curb appeal is our deal. We're in business to care for our family, and you can count on us to care for your family, too! Use our easy online form to request a free estimate for exterior maintenance or pressure washing for Reading and the surrounding communities, or give us a call today at 610-334-2744 to speak to one of our friendly specialists about tackling your to-do list.
GIVE US A CALL TODAY FOR EXPERT PRESSURE WASHING IN READING & THE SURROUNDING AREAS!