Driveway Washing For Easy Reading Property Care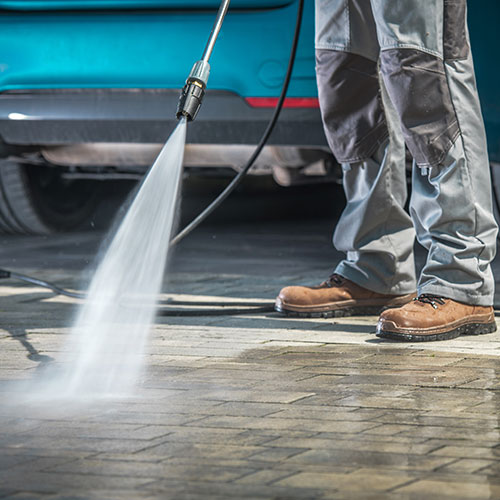 Griffin's Service All Exterior, LLC is the exterior maintenance professional offering five-star pressure washing for Reading and the surrounding areas and our driveway washing specialists will give you the real deal when it comes to curb appeal. Our driveway cleaning experts turn our practical applications into works of art that will make your Reading property shine.
At Griffin's Service All Exterior, LLC, we use commercial-level driveway washing equipment with ground-breaking pressure washing technology - along with our proven driveway cleaning processes - to remove greasy stains and grimy buildup from your driveway's surface. Our driveway washing specialists can safely clean a variety of driveway surfaces including concrete, brick, exposed aggregate, and more. Our qualified professionals have over two decades in the exterior maintenance industry, while our eco-sound cleaning products are safe for your surfaces, safe for our Reading environment and safe for use around children and pets. We're in business to take care of our family, and we'll take good care of your family, too!
If you've been looking for a driveway washing specialist who offers eagle-eye attention to detail and heart-of-a-lion commitment to excellence for your Reading property, Griffin's Service All Exterior, LLC has you covered from the roof down. Use our online form to request a free quote, or give us a call at 610-334-2744 to schedule five-star pressure washing services in the Reading area.
Concrete Cleaning
Clean concrete can be a true work of art when you leave it to the concrete cleaning specialists at Griffin's Service All Exterior, LLC. We use professional-grade equipment and proven concrete cleaning processes to eliminate dirt, organic growth, and set-in stains from your concrete surfaces. A few of our many concrete cleaning services include:
Driveway Washing
Curb Cleaning
Porch & Patio Washing
Pool Deck Cleaning
Retaining Wall Cleaning
Exterior Building Washing
Dumpster Pad Cleaning
Call us today for a free quote for concrete cleaning services in the Reading area.
Expert Exterior Maintenance To Care For Your Reading Property From The Roof Down
If exterior property maintenance has become a burden, our team of skilled professionals can care for your Reading property from the roof down and give you more time to spend doing the things you enjoy. With 20 years of industry experience, we can tackle your to-do list with five-star exterior maintenance services that include:
Residential Pressure Washing
Commercial Pressure Washing
Bush & Tree Removal
Gutter Cleaning
Exterior Painting
Mortar Repair
Chimney Capping
Use our online form to request a free quote, or give us a call today at 610-334-2744 to speak to one of our friendly exterior maintenance professionals at Griffin's Service All Exterior, LLC.
GIVE US A CALL TODAY FOR EXPERT PRESSURE WASHING IN READING & THE SURROUNDING AREAS!