Go-To Pressure Washing Services In Myerstown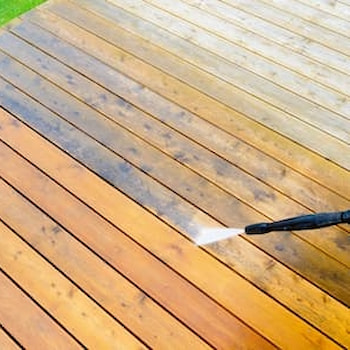 The go-to Myersville pressure washing professional you can rely on for five-star services to care for your property from the roof down is Griffin's Service All Exterior, LLC. We have over two decades of industry experience and our family-owned business will treat your Myerstown property with the care it deserves. The pros at Griffin's Service All Exterior, LLC have a passion for pressure washing and curb appeal is our deal.
We use professional-grade commercial-level cleaning equipment, proven pressure washing processes, and our expertise to safely clean your Myerstown property's exterior surfaces without damage. With our top-quality attention to detail, it's easy to see why your friends and neighbors in Myerstown and the neighboring communities including Mt. Aetna, Reistville, and Millardsville trust Griffin's Service All Exterior, LLC for all of their pressure washing needs.
At Griffin's Service All Exterior, LLC, we're in business to take care of our family and you can count on us to take good care of your family, too. To schedule pressure washing or other exterior property maintenance services for your Myerstown home or business, use our online form to request a free quote or call us at 610-334-2744.
Myersville Exterior Property Maintenance, Gutter Cleaning & More
Our goal at Griffin's Service All Exterior, LLC is to relieve our customers of the burden of exterior property maintenance and give them more time to focus on caring for their families. With over twenty years of experience, our exterior property maintenance professionals are reliable, efficient, and loyal and will tackle your to-do list to care for your outside spaces from the roof down.
A few of our many exterior property maintenance services include:
Bush & tree removal
Gutter cleaning
Chimney capping
Mortar repair
Exterior painting
Residential pressure washing
Commercial pressure washing
And more!
Our qualified exterior property maintenance and pressure washing professionals will give your Myersville property an all-over shine and a revived curb appeal. At Griffin's Service All Exterior, LLC, we have a passion for exterior property maintenance and curb appeal is our deal. Request services using our online form or give us a call today at 610-334-2744 for a free quote.
Driveway Washing & Sidewalk Cleaning For Enhanced Myersville Curb Appeal
We offer a broad array of residential and commercial pressure washing services to care for your Myersville home or business, including:
House washing
Building washing
Sidewalk cleaning
Pool deck cleaning
Concrete cleaning
Don't let pressure washing and exterior property maintenance keep you from focusing on your family. Trust the pros at Griffin's Service All Exterior, LLC for five-star service and quality results for your property in the Myersville area. Call us today at 610-334-2744 or request a free estimate using our easy online form.
Reviews & Testimonials on Griffin's Service All Exterior, LLC in Myerstown, PA
There are currently no reviews or testimonials, check back soon!
GIVE US A CALL TODAY FOR EXPERT PRESSURE WASHING IN READING & THE SURROUNDING AREAS!